FAS2000 Vaporizer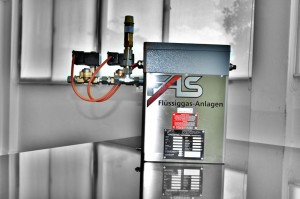 The FAS-dry vaporizers are completely maintenance-free and require no heat transfer fluid.  An aluminium core is used as the heat transferring medium, in which the heating equipment and vaporizer system are cast. Using a thermostat, the heat transferring medium is heated and monitored within the limits specified by DIN standards. Once the required vaporizer temperature has been reached, the solenoid valves open. Liquid gas enter the vaporizer where it is converted to vapour without any fluctuations in pressure until the specified rated capacity has been reached. The modern design means that fluctuations in vapour flow are detected immediately and the required heating capacity is adjusted quickly to suit the new operation parameters. In case of power failure or overload, the solenoid valves close. An additional safety limit switch monitors the outlet temperature of the vapour and prevents it from exceeding the given limit.
The company FAS (Flüssiggas-Anlagen GmbH, Salzgitter) was established in Europe since 1975 as commercial enterprise for LPG equipment (propane/butane). At the end of the seventies the "safety idea" gained more and more acceptance for customers and users. Due to the legal rules and regulations FAS extended the product range "safety engineering" and included a large number of further valves, fittings and equipment into the delivery program in order to comply with the increased requirements in safety engineering of gas producers, suppliers and distributors.
Tan Soon Huah Gas Supply Pte Ltd is proud to be the exclusive distributor for FAS2000 Vaporizer for Southeast Asia.
Liquid gas vaporizers FAS 2000 can be delivered with one required capacity in two versions: as a single vaporizer and as a complete cabinet unit. Single vaporizer consists of one vaporizer ready for connection and can be used as an additional element in the existing units.
One complete cabinet unit is executed in a cabinet and is equipped with all necessary components such as shut off valve, control valve, safety equipment. This unit can be equipped in accordance to the particular specification of the object with all necessary regulators or regulator units with suitable for energy generator outlet pressure.
Standard execution of regulator has outlet pressure of 1,5 bar (middle pressure) up to 36 mbar (low pressure). For safety and depending on equipment version of regulator vaporizer can be equipped with emergency shut off valve and/or relief valve, which will be adjusted at the outlet pressure of the unit and tested directly before the shipment.
Vaporizer Type

Capacity,
kg.hour

Voltage

Dimensions, mm

Output
pressure,
mbar

FAS 2000-


32

230V / 50 Hz

1200x800x400

FAS 2000-32

400V / 50 Hz

FAS 2000-60

1200x1200x400

FAS 2000-100

100

1600x1200x500

FAS 2000-170

170

FAS 2000-330

330

1600x1200x600

FAS 2000-450

450

2400x2000x600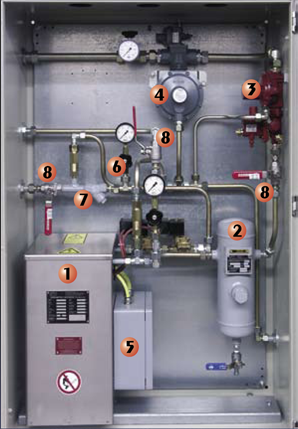 Complete Vaporizer unit FAS 2000 with outlet pressure 50 mbar
Complete vaporizer unit FAS2000 for 32kg/h is available in two versions:400 V and230 V.
1. Vaporizer FAS 2000
2. Liquid trap
3. Regulator unit — Pre-stage Pa=1,5 bar
4. Regulator unit — Pa=50 mBar
5. Electrical switch box
6. Solenoid valve
7. Fine mesh filter
8. Shut off valve