Daesung Gas Meter
Tan Soon Huah Gas Supply Pte Ltd is proud to be the exclusive distributor of Daesung's Gas Meter in Southeast Asia.
Founded in 1987, Daesung (Daesung Measuring Co Ltd) have steadily grown in Energy and Measuring equipment business while doing our part in the development of technology and services for this sectors to promote welfare of their customers. Daesung's Gas Meter is manufactured according to the highest standard and complies with ISO 9001 , KS A 9001,  EN ISO9001 as well as OIML R31 certification.
Features:
DAESUNG G-Series gas meter covers the sizes of domestic, commercial meters with flow rate from 2.5 ㎥/h to 6.0 ㎥/h. The products, produced are suitable for LNG, LPG, precision, excellent metering performance, sturdiness and compact size are some of the outstanding features of these products.
As for the structure, the meters have a two measuring units with four measuring chambers each, which are linked together. The measuring chambers are separated by synthetic diaphragm. The chambers are filled and emptied periodically, and the movement of the diaphragm is transferred as via a gear to the crank lever. This moves the valves which control the gas flow and revolution of the crank levers are transferred via driving drum into the indicating device.
Daesung's products, innovative production plant has been designed in accordance with SA9001,ISO9001 Quality management system to ensure the highest quality at full production capacity. In addition, Daesung's Gas Meter has been developed to satisfy the requirement specified in OIML standard.
Technical Characteristics:
G-Series: DAESUNG GAS Meter is produced according to the recommendation of O.I.M.L Standard.
Durability : The newest engineering plastics ensures its persistence.
Rotary riveting : Use of the riveting methods for connecting distribution lever with a connecting rod.
G-Series has function of measuring minute flow rate and indicates the stable measuring typical accuracy curve in a range of minimum through maximum flow rate.
Technical Specification
Overall Dimensions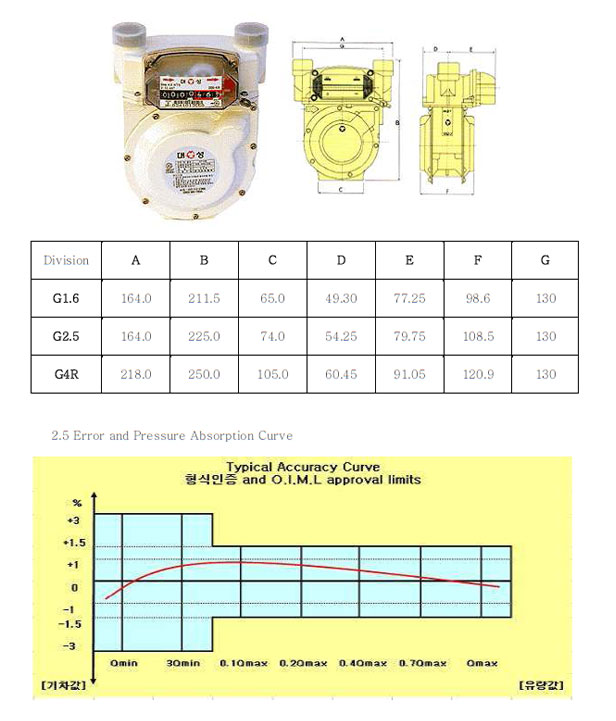 Process Control System Diagram